Series 43:2003
A combination of constant schedule changes, an irregular run and talk of the BBC axing the show fuels rumours that this series will be the last. But it's business as usual as this year's subjects range from an award-winning head teacher,
a popular political figure
,
a 007 stunt man
and, in what will be
This Is Your Life's
final outside broadcast, a mountaineer, whose show is recorded in the Lake District. Ultimately the rumours become fact. After clocking up almost 50 years as a ratings winner and 1130 editions in the UK,
This Is Your Life
, a television institution, bows out gracefully. Has the
Big Red Book
, as it came to be known and loved, really been put back on the shelf forever?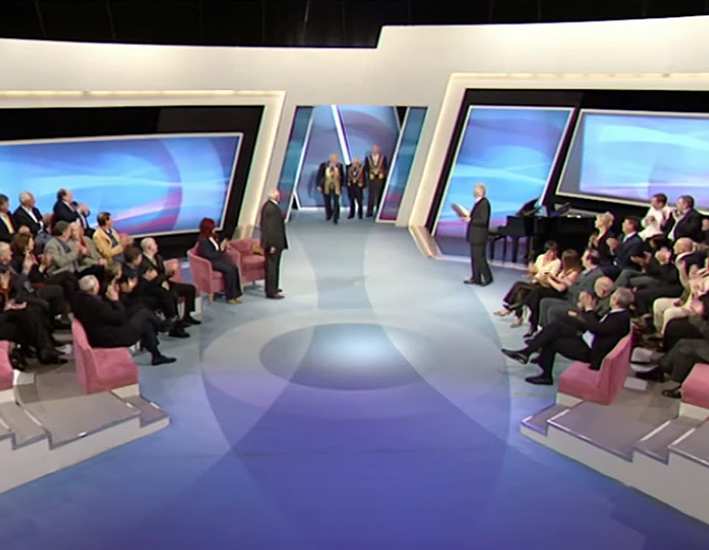 Broadcast details: Thames Television production for BBC > 24 x 30 minutes; 1 x 60 minutes > Wednesday 8.00pm x 1; Thursday 7.00pm x 22; Friday 7.00pm x 2
Production team: Producer: Sue Green > Associate Producer: Helen Gordon-Smith > Series Producer: Jack Crawshaw > Series Consultant: John Longley > Directors: John Gorman, Steve Docherty, Paul Kirrage, Peter Wisdom > Writers: Ian Brown, Joe Steeples > Researchers: Ruth Malone, Kate Greer, Jo Grant, Alex Renton, Deborah Cowan, Carrie Rose, Ian Skelton > Programme Associates: Ian Brown, Joe Steeples > Production Assistants: Irene Maxwell-Clark, Liz Fleming > Production Manager: Dawn Gray > Programme Co-ordinator: Deborah Armstrong > Music: Laurie Johnson > Designer: Simon Jago > Film Research: Helen Bennitt